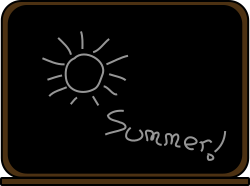 A teacher's work is never done but I will be taking some time to have a restful break before the school year begins again.
I'm very excited to share that I will be teaching a grades 4/5 French Immersion class in September! This will be my first time teaching this age group; however, I feel like I'm not really that new to this grade grouping. My good friend and teaching colleague taught grades 4/5 students and I was always poking around her classroom when I used to teach across from her. I also have been conversing a lot with my two other teaching friends this past year, both teaching grades 4 and 5 students as well.
I am looking forward to implementing some new ideas for the new school year. Until then, I'm going take some time to recharge my batteries and get some more fresh ideas for my classroom. A great way to engage in professional development is available at your finger tips already: the web. I recently read
a great blog post
by Nic Peachey on this topic. I strongly encourage you to have a look at his post for some inspiration.
Please continue to keep an eye on this website over the summer or
"like" my NEW Facebook page
to receive blog updates and resource links in your status feed on Facebook.
Bonnes vacances tout le monde!
Bernadette